Peppa Pou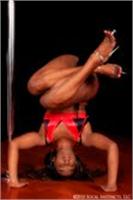 Peppa was born in Belize City, Belize and moved to the states as a teenager. She discovered and embraced her love for dancehall in 2005 and has never looked back. She's Los Angeles #1 female dancehall danca, Southern California dancehall queen 2009-2011 and Bayarea Dancehall Queen 2010-2011. Peppa has been a dancehall reggae choreographer/instructor since 2006 and has worked with various artists from LA. She's performed at various venues throughout Hollywood. Her pole dance training began in December 2009 right here at Evole. She continues to develop her skills in Dancehall, Pole dance, Ariel Hoop, weight training and yoga. Afro Brazilian and West African dance styles are also a part of her dance training.
Peppa Pou instructs the following:
Pole Spinning Pole Class..... add swirly new moves to your repertoire with this intensive choreographed spinning pole class. Learn new fabulous pole combinations that can only be done on the spinning pole! Amaze yourself with your new flying abilities!




In this floor-based class you will learn proper technique and exercises to improve form, Flexibility (splits, shoulders, backbends) , strength and balance while working on your upside skills in shoulder-stands, headstands (headtop), forearm stands, handstands and other arm balances inspired by dancehall, gymnastics and acrobatics.




Once you've establish a solid invert the focus is switched to Flow. Various Legs, hips, arms and hand positions such as whining, twerking and splits variation in an invert will be introduced; as well as different ways of entering and exiting inverts such as a backward shoulder roll into a shoulder stand and a headstand to a handstand.

Music Contains Explicit and Raunchy Lyrics




Do you want to wind it like a Dancehall Queen, but think the moves are too intimidating or difficult? Let Peppa demystify the Art of Dancehall and break down each step, she'll help you eMPOWER and eVOLVE your Inner Dancehall Queen.

You'll learn moves to impress your lover and everyone at the Reggae Club. Set to the hottest dancehall rhythms you will be rolling it, dropping it, and rocking it while mastering moves like Pretty Whine, Hatta Peppa, Catch a fire, Tender Touch, Headtop, Drummer Boy, Bucky Bounce and more!

Sneakers, dress comfortably no loose clothing bring or purchase kneepads at the check in desk.




Levels 1-4


We will focus on strengthening your core, upper and lower body, next you'll learn the correct way to climb and invert. Don't worry this class is progressive, there are so many ways to climb and invert so you won't get bored and we promise to give you an awesome workout!

Bring your yoga mat and stilettos if you're nasty!